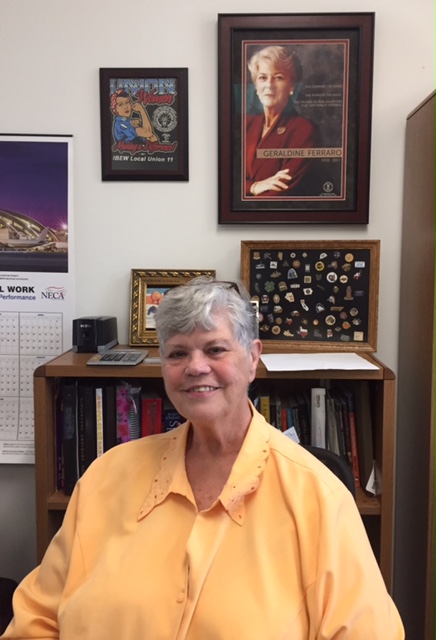 Jane Templin is the Vice Preisdnet of IBEW Local 11
Check out the following clip from Jane Templin's oral history. In this clip she talks about Hillary Clinton cracking the glass ceiling when she became the Democratic nominee at the 2016 DNC:
"In her acceptance speech at the convention, there was one part of it that rang in my head.  She said, 'The glass ceiling has been broken; do you know what that means?  It means the sky is the limit.'  That was awesome.  That just rung in my body, and I had tears.  I was crying through the whole speech at the attainment of it.  The fact that we still don't have ERA and other imbalances, that that needs to be part of social justice, her addressing that and that many of us have broken what is so-called glass ceilings.  And, they're called glass not because they're fragile but because you can see through to what the inequities are.  And, for her to say, 'The glass ceiling has been broken, and the sky is the limit,' to all the young girls that are looking forward, that is amazing.  It was very empowering. "